BUILDING BRAND AWARENESS
How To Get Recognized For The Amazing Work You Do
Summary:
Wendy Capland, CEO of Vision Quest Consulting, had just been through a comprehensive rebranding process. They updated her personal and business brand image with a beautiful new look. She hired a PR team, a social media company and an event management company. This case studies details how consulting with Jenn Morgan empowered Wendy to lead her marketing teams, raise awareness of her consulting business and gain recognition as a leading authority in the field of leadership development.
When I met Wendy she had just been through a large rebranding project with a different marketing agency. At the end of their work together, she was left on her own to integrate the brand work into her business operations.
After evaluating her case, I found that she had a positioning statement for herself as an industry leader, but she hadn't a messaging strategy to back up her claim. She was also missing a marketing strategy and a media plan, without which it's nearly impossible to help others formulate effective ideas and communications on behalf of the brand.
First, I defined the key differentiating factors that sets her apart from others in her field:
Best Selling Author of Your Next Bold Move for Women
Creator of a Women's Leadership Retreat and running for the past 9 years
Internationally Recognized Hall of Fame Coach
Team consists of 40+ expert consultants & trainers worldwide
Multimedia brand presence (to be created this year)
I focused her core differentators into leadership success stories that became the foundation for all communication around her brand.
Media brand, professional bio
Then, I drafted a marketing strategy and media plan to focus the year ahead. And, I designed a press kit as a Promotional PDF that integrated her personal and business brands.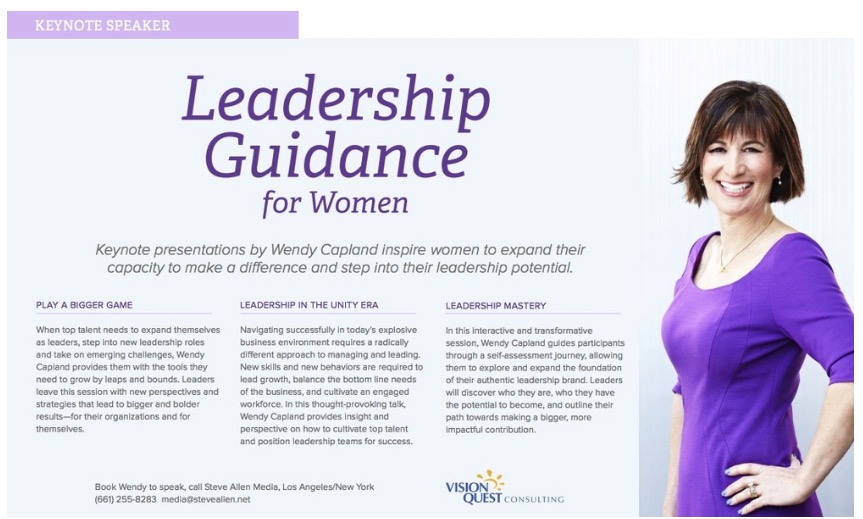 Description and promotion of her inspirational keynotes and media contact information.
Executive summary of company and main lines of business.
Vision Quest Consulting retained my services for nearly two years to draft downloadable, educational content, pitches for national television, pitches for print and online magazines, marketing strategies for attending global conferences, messaging strategies for their annual women's leadership retreat in New Port, RI, email marketing and blogs.
These are the results of our work:
Television
Print & Online Magazines

INC.com -15 times
Fast Company
Entrepreneur Magazine
Success Magazine
Monthly contributor to Canada's largest newspaper, Globe & Mail
Cover of Forbes

Speaking Engagements

Harvard University 11th Annual Women's Intercollegiate Business Convention
WFF Women's Food Service Annual Leadership Conference 2016
Center for Women & Enterprise 2014
Genentech Women's Leadership Forum
Vision Quest Consulting's Annual Women's Leadership Retreat

Website traffic to VisionQuestConsulting.com

Up 77% from 2014
Top landing pages – "women's retreats"
Email list grew 300%

Website traffic to WendyCapland.com

Up 589% from 2014
Organic visits from "women / leadership" related searches
Email list grew 1,000%

Women's Leadership Retreat Event 2015